General Surgeon, Laparoscopic Surgeon and Endoscopist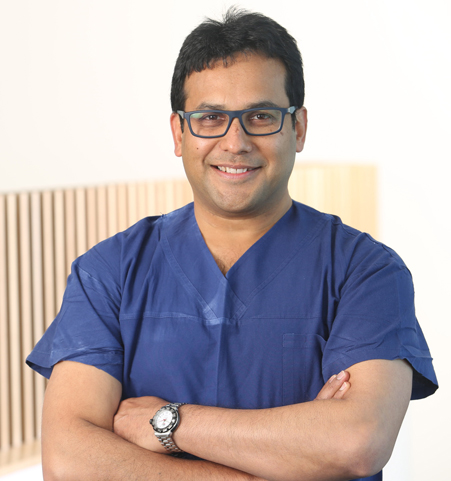 I treat every patient as my family member.
My practice philosophy is: Ethos Pathos Logos
Mr Sumeet Toshniwal is an experienced General Surgeon providing care at Knox Private Hospital and the surrounding areas. Sumeet can treat patients in the realm of General Surgery and has a special interest in Hernia repair and Gall Bladder surgery.
In 2013, Sumeet became a fellow of the Royal Australasian College of Surgeons (FRACS) after completing his fellowship training through Western Hospital & Royal Melbourne Hospital. Prior to this, Sumeet obtained his Master's in Surgery (M.S) in India.
Since obtaining his fellowship, Sumeet has worked extensively in both the public sector at Northern, Monash & Eastern Health while establishing his private practice at Knox. While Sumeet continues to work with Eastern Health he provides services privately at Knox Private and Waverley Private Hospitals.
Sumeet is highly skilled in General Surgery including laparoscopic surgery and endoscopy.
Sumeet is always available to speak directly with referrers pre- or post-consultation and is happy to take on urgent patients as required. Feel free to contact his rooms using the details above.
MR TOSHNIWAL'S SPECIAL INTERESTS INCLUDE:
Gall Bladder Surgery
Hernias (Inguinal, Umbilical, Incisional, Abdominal/Ventral)
Carpal Tunnel Release
Haemorrhoid Surgery
Endoscopy (Gastroscopy & Colonoscopy)
Excision of Lumps, Bumps & Skin Lesions
Ingrown Toenail Removal
Sumeet is a people person with a sincere sense of empathy. He prides himself on his personable nature and communication skills which carry through from referral to post op for his patients and referrers. His treatment plans are tailored to the patient's needs and wishes. Should patients prefer, Sumeet can provide consultations in Hindi as well as English.
Services
Management of Gallstones with Laparoscopic surgery
Management of Groin Hernia Operation with most advanced minimally invasive laparoscopic surgery.
Management of other abdominal wall hernias, like umbilical or incisional, both laparoscopically and open
Acute surgical emergencies.
Management of Carpal Tunnel syndrome
Gastroscopy and Colonoscopy
Management of complex pilonidal sinuses
Management of Haemorrhoids (Piles), Anal abscess and fissures.
Management of Acute appendicitis both in adults and kids
Same day minor procedures for lumps and bumps
Education
FRACS 2013
Post Graduate Diploma in Anatomy 2010
Master of Surgery 2001
MBBS 1996
Consultant surgeon
Knox Private Hospital (Consulting & Operating)
Waverley Private Hospital (Operating)
Eastern Health
Membership
Royal Australasian College of Surgeons
GESA
American Hernia Society Conference Washington DC 2016
Certification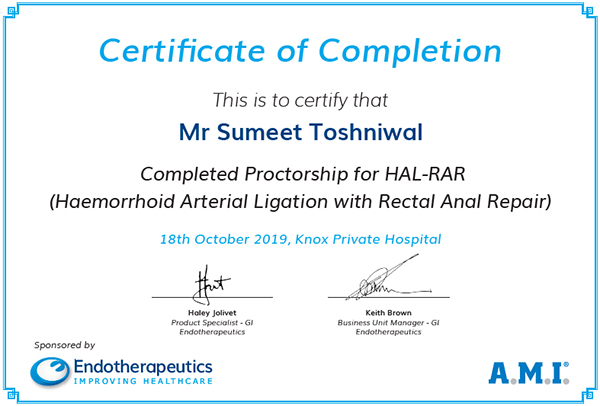 Mr Sumeet Toshniwal
Knox Private Hospital
262 Mountain Highway
Wantirna, VIC 3152
Waverley Private Hospital
Meadow Crescent
Mount Waverley, VIC 3149
Phone: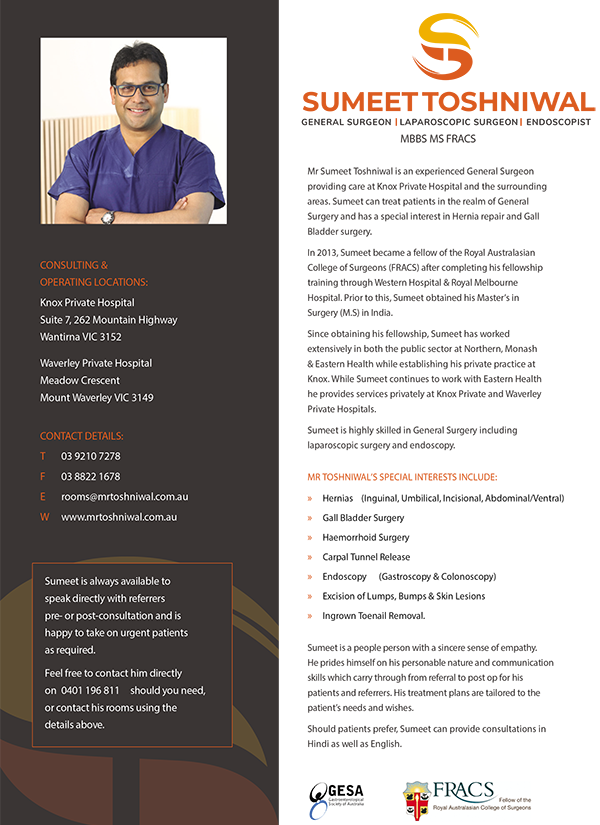 You will need the Adobe Reader to view and print these documents.